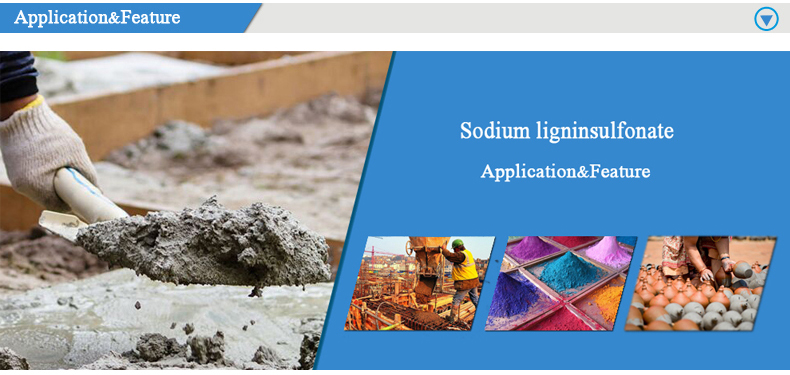 The yellow powder Sodium lignosulfonate is mainly used in resin, rubber, dyes, pesticides, ceramics, cement, asphalt, feed, water treatment, water coal slurry, concrete, refractory, oil field drilling, compound fertilizer, smelting, casting, adhesive.
1, in the construction industry, sodium lignosulfonate as a surfactant can used as water reducer for concrete, to cement a adsorption and dispersion effect, can improve the various physical properties of concrete. Can be formulated into early strength agent, retarder concrete admixture, antifreeze, concrete plasticizer,pumping agent, concrete curing admixture, etc..
2, in the coal industry, sodium lignosulfonate as a water slurry additive, sodium lignosulfonate can make the water coal slurry to reduce viscosity and achieve a certain stability and liquidity, at the same time, sodium lignosulfonate can also make the ore into the ball to obtain high strength, good stability, lubrication and other good results.
3, the ceramic industry: in the production process of the ceramic industry, the sodium lignosulfonate can make the body of the raw material particles firmly bonded ,can used as pottery additive (ceramic additives) and ceramic admixture can make the dry billet strength to improve 20%-60% above. sodium lignosulfonate also can be used as refractory matter materials.
4, dye dispersant sodium lignosulfonate used in for dye industry and pesticide processing of filler and the dispersion agent, as the dyestuff additive can increase the dye color, color more uniform, shorten dye grinding time
5, sodium lignosulfonate is used as dispersant in the process of drilling , dilution viscosity reducer; improved flowability of the crude oil in transportation, reduce energy consumption. In petroleum products, as a cleaning agent, dispersing agent, high alkaline additives, anti rust agent, antistatic agent, emulsifying viscosity reducer, fire wax paraffin inhibitor etc..